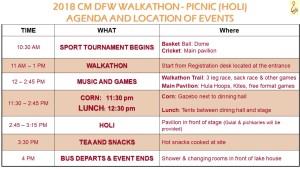 If you have any questions, please contact 
2018 CM DFW Walkathon & Picnic Team 
(

picnic@cmdfw.org

)
EVENT
: 
2018 CHINMAYA MISSION (CM) DFW Walkathon-Picnic (Holi)
When

:   

Sunday, April 29 , 2018

Where

:  

CHINMAYA MANGALAM, 

10470 W. FM 744 Barry, Texas TX 75102

Time

:   

10:30 AM – 4:00 PM

Cost:    $20 

per 

Family to attend the event. (FREE for Parivar members.)
This event is open to all CMDFW members and their guests.
Picnic team is looking for an accurate count to help with planning the event (especially in the area of Food, Corn, Holi Color etc).
Registration Details:
Use the link below to Register.
Review the detailed steps towards the end of this page
BUSES 
We have planned a bus from each location and seats will be allocated on a first-come, first- served basis. If we don't have enough interest, bus arrangement will be cancelled from location with low registration. 

You have to register for picnic before you can register for bus.

Cost is $15/Person. 

Registration: Use the "Register for the Transport" link under the 

registration link or the following link: 

https://www.z2systems.com/np/clients/cmdfw/neonPage.jsp?pageId=23&

 

SPORTS TOURNAMENT
This year we will host Cricket and Basketball tournament:
We need lots of volunteers. 

We only need 1-hr time slot from you

.
Please use the online volunteer registration link: (www.SignUpGenius.com/go/30E0A4FADAD23A6F94-walkathonpicnic) to register for any of the teams. You will be contacted by a Team member who will inform you what your assignment and your shift timing. We will do our best to minimize the time you have to volunteer, but you can help relieve the load on other volunteers by showing up for your assignment at the designated time and place.
Middle & High School Kids

: Do you need volunteer hours?

During the Holi & Walkathon event you will have multiple options and lot of 

opportunities to earn volunteer hours. Please use the online volunteer registration 

link to 

register for the team on which you would like to volunteer.
DIRECTIONS :
On Google Maps search for : Chinmaya Mangalam – Spiritual Retreat Centre
CHINMAYA MANGALAM
Address: 
10470 W. FM 744
Barry, Texas TX 75102
From US-75:
Go South on Central Expressway US-75
US-75 becomes 1-45 S.
Take EXIT 235A (I-45 Frontage Rd in Navarro County).
Merge into the I-45 Frontage Rd
Turn right onto Hardy Ave.
Continue onto Forest Ln (Hardy becomes Forest right after N Beaton St) for 0.6 mi.
Turn right onto Dobbins Rd and continue for 2.6 mi
Dobbins becomes FM 744 at the intersection of State Highway 22.
Chinmaya Mangalam is on FM 744 on the right hand side.
From TX-183 via I-35:· Take TX-183 E toward Dallas
TX-183 E becomes I-35E S.
Take EXIT 397 toward US-77.
Merge onto S Interstate Highway 35 E.
Take the 1st left onto Connecting Rd.
Turn right onto S Highway 77/US-77 S.
Turn left onto FM 55/FM-55.
Turn left onto FM 55/TX-34/FM-55.
Take the 1st right onto FM 55/FM-55. Continue to follow FM-55.
Turn left onto W Forgey St/TX-22/FM-55.
Take the 3rd right onto N Fordyce St/FM-55.
Turn left onto E Grady St/FM-55. Continue to follow FM-55.
Turn left onto FM 744/FM-744.
Chinmaya Mangalam is on FM 744 on the right hand side
2018 CM DFW Walkathon & Picnic Team
Following are the detailed instructions:
Scroll down to the "Holi Picnic and Walkathon – Festivities at Chinmaya Mangalam" section.

Click on Register for the Holi Event then

Click on Click here to register online then

In the Quantity column, enter number of families you are registering. Note: column will be pre-filled for the member (your family) so you need to only enter the number of guest families you want to register for.

Click Waiver Document to down the waiver document and review it and forward it to your guest family. Once reviewed click radio button before text "Yes, I agree" to electronically sign the waiver form. Please read the text above the button.

Check all the family members that are planning to attend the event.

Choose whether you want to volunteer. You also need to indicate if the family member is below 12 years old or not. Add your phone number. Please note that at least one adult has to accompany children.

Review

 the information entered and the amount due.

Click Complete Enrollment and follow instructions to pay for the event.