Shri Prabhakar B. Ghate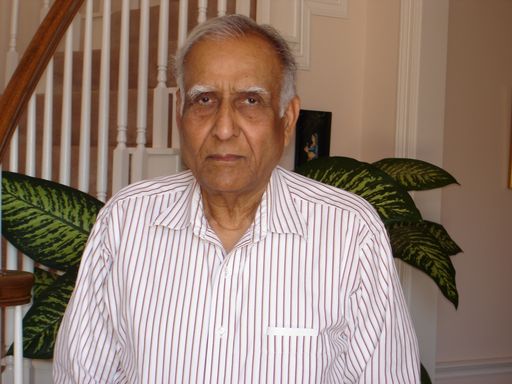 Shri Prabhakar B. Ghate (PBG) hails from Dharwad in the state of Karnataka. PBG came to the US in 1958 as a Fulbright Scholar after graduating from Karnataka University with high honors. After completing his Ph.D. in 1962, he joined Cornell University, where he pursued a career in research and teaching until the summer of 1966. In September of 1966, PBG moved to the Dallas area to start his long and distinguished career with Texas Instruments where he worked until January 1995, retiring as a Texas Instruments (TI) Fellow and Worldwide Manager of Reliability in the Semiconductor Division.
When PBG first came here there were hardly fifty to sixty people of Indian origin, including children, in the area. India Association of North Texas (IANT) was in its infancy. PBG served as a President of IANT in 1970. He delivered presentations on sanatana dharma at several area churches and schools, as well as UT Southwestern Medical School. For a number of years, PBG was a member of the Inter-faith group and offered peace prayers during Thanksgiving. He is a founding member of the Dallas Fort Worth Hindu Temple Society and also served as one of the trustee.
PBG has a long association with Chinmaya Mission starting in 1982 when he had the opportunity to listen to Pujya Gurudev Swami Chinmayananda's discourses at the camp in Houston. After that he used to attend Gurudev's discourses regularly whenever he came to Houston. In 1991, he attended Gurudev's discourses on the Bhagavad Gita in Piercy, California, as well as his seventy-fifth birthday tulabhar celebration, in Mumbai, India.
PBG met Pujya Guruji Swami Tejomayananda in 1989, when DFW Hindu temple hosted his discourses on Navadha Bhakti. Since then PBG has attended several camps and courses conducted by Guruji, culminating with the Vedanta Course at Sandeepany Sadhanalaya, Mumbai from 2005 – 2007. During this time PBG also passed, with distinction, the Kovid examination in Sanskrit conducted by Bharatiya Vidya Bhavan.
PBG has been involved with Chinmaya Saaket since the purchase of the land in 1998, the bhumi puja, vastu puja and the installation and consecration of the deities in the Ram Mandir in 2000. He has currently been assigned by Guruji to CMDFW.