November 20th/21st
** We are closed for e-BV next weekend (Nov 27/28) for the Thanksgiving break. We'll resume BV, the following weekend (Dec. 4/5) ** 
CMDFW Annual Banquet 2021 (Virtual) – Saturday, Dec 11: 
 We have only 3 weeks left to go for our annual fundraising banquet, SATURDAY, DECEMBER 11, 6:00 – 7:30 PM CDT. Attendance at the Banquet is free to all guests, but registration is required. Sw. Shantananda ji, will deliver the keynote address. We also have cultural items from Bala Vihar children to showcase. Please hurry and register here so we can share program details:
We invite you and your family to attend the event. Please email questions to banquet@cmdfw.org or call the Banquet Helpdesk at 972-972-9929 in case you need assistance.
Kartika Masa Mondays – Rudraabhisheka and Shivaarchana:
Kartika mAsa Monday shivArchana (7:00 p.m. – 8:30 p.m.) will continue over next 2 Mondays – Nov 22nd and Nov 29th. 
We invite you to join in virtually – via Zoom or YouTube:     
Join Zoom Meeting:
https://cmdfw.zoom.us/j/87948051111?pwd=Y3RGamtwT0xGYlZyb3J5WS9pZFVtQT09
Meeting ID: 879 4805 1111
Passcode: K@rt!K@-21
Join via YouTube: https://www.youtube.com/user/swamisarveshananda
Relaunch of In-person BV Next Semester (Starting Jan 9, 2022):
You may have seen the recent email message delivered to your Inbox re: relaunch of in-person Bala Vihar, starting Jan 9, 2022. Here's a high-level plan for in-person BV:
All the facilities will be sanitized and ready by the end of the year
We're consolidating in-person sessions into 2 sessions per facility, on Sundays only:  

Saaket: S1 (Sunday, 9:00 – 10:30 a.m.) and S2 (Sunday, 12:00 – 1:30 p.m.)
Chitrakoot:  C1 (Sunday, 9:00 – 10:30 a.m.) and C2 (Sunday, 12:00 – 1:30 p.m.)
Frisco: F1 (Sunday, 9:00 – 10:30 a.m.) and F2 (Sunday, 12:00 – 1:30 p.m.)

Cultural classes and teachers' satsangas will be held between the two sessions. Due to the logistics constraints at Frisco, however, adult satsang and cultural classes will be available only at Saaket & Chitrakoot.
Initial session mapping from current eBV to the new in-person BV is as follows: eBV1 => C1, S1 and F1; eBV2 => C2, S2 and F2 
We'll try and accommodate transfer requests, subject to session caps, especially for Frisco
The details of sessions, timings, coordinators and Swamiji/Brahmacharins' assignments are shown below: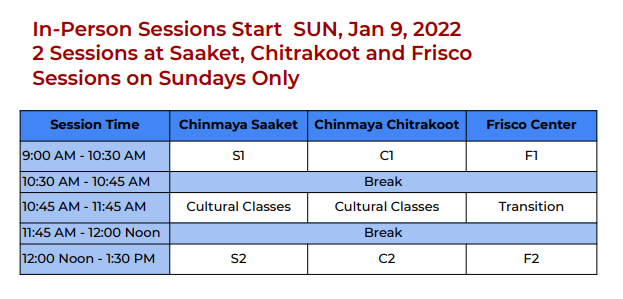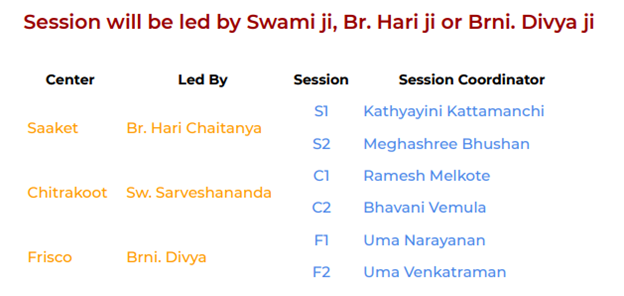 Thank you and HariH OM!