CMDFW Grand Celebration Event 2023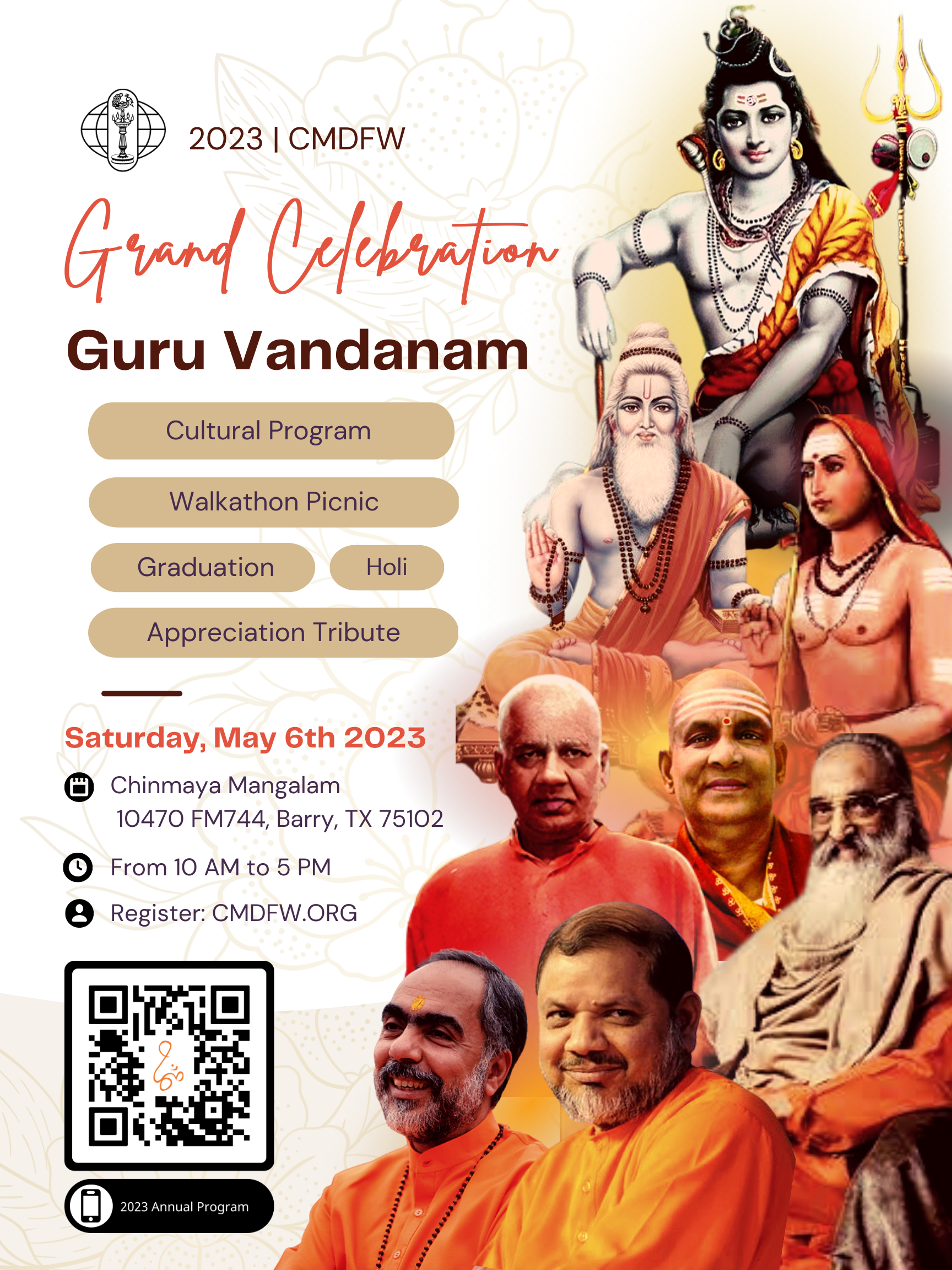 EVENT: 2023 CHINMAYA MISSION (CM) DFW Grand Celebration Event 2023
When:   Saturday, May 6th, 2023
Where:  CHINMAYA MANGALAM, 10470 W. FM 744 Barry, Texas TX 75102
Time:    10:00 AM – 5:00 PM
Cost:   $10/person to attend the event.
T-Shirt Cost: $10/person
EVENT DETAILS: Since this is the last event Swami Sarveshananda ji attends before moving back to India, we are combining following annual events:
Graduation: All graduating seniors will be conferred as Chinmaya Mission BalaVihar graduates for the school year 2022-2023.
Guru Vandanam: A tribute to the Guru Parampara through our offering to our beloved Swamiji – Swami Sarveshananda Saraswati as a token of acknowledgement of our indebtedness for his continual guidance for over 20 years. This will include Swaranjali, Nrityanjali and Vaadya Tarangini.
Walkathon and Picnic (Holi): A fun-packed event which has always been a hit with everyone alike – the young and the young at heart.
EVENTS SEQUENCE: 
High-School Graduation
Lunch
Cultural Program
Appreciation and Farewell Speeches
Walkathon
Tea and Snack
Holi
CARTER BLOOD CARE VAN will be on site:
Those of you interested in donating blood, please use the registration link below to book your timeslot: https://ww3.greatpartners.org/donor/schedules/drive_schedule/140388
WHO CAN ATTEND
This event is open to all CMDFW members and their guests that are registered – see below.
NEED TO REGISTER
Picnic team is looking for an accurate count to help with planning the event (especially in the area of seating arrangements, Food, Corn, Holi Color etc).
Registration Details: Use the link Chinmaya Mission – Registration System to Register Or use the registration link on the main page.
Please see the detailed steps towards the end of this email
We understand you are registering early, and your plans may change. We will refund your registration fee provided you inform us by midnight April 1st. No refunds will be processed after this date.  
Walkathon T-Shirts order: Cost $10/person.
T-shirts will only be available via online orders at the time of the registration.
 VOLUNTEERS
While we need lots of volunteers, we are only seeking 1-hr time slots from you.
Please send your interest to picnic@cmdfw.org
Middle & High School Children: Do you need volunteer hours?
During the Holi & Walkathon event you will have multiple options and lot of opportunities to earn volunteer hours. If interested send your request to picnic@cmdfw.org
DIRECTIONS:
On Google Maps search for: Chinmaya Mangalam – Spiritual Retreat Centre
CHINMAYA MANGALAM
Address: 
10470 W. FM 744
Barry, Texas TX 75102
From US-75:
Go South on Central Expressway US-75
US-75 becomes 1-45 S.
Take EXIT 235A (I-45 Frontage Rd in Navarro County).
Merge into the I-45 Frontage Rd
Turn right onto Hardy Ave.
Continue onto Forest Ln (Hardy becomes Forest right after N Beaton St) for 0.6 mi.
Turn right onto Dobbins Rd and continue for 2.6 mi
Dobbins becomes FM 744 at the intersection of State Highway 22.
Chinmaya Mangalam is on FM 744 on the right-hand side.
From TX-183 via I-35: · 
Take TX-183 E toward Dallas
TX-183 E becomes I-35E S.
Take EXIT 397 toward US-77.
Merge onto S Interstate Highway 35 E.
Take the 1st left onto Connecting Rd.
Turn right onto S Highway 77/US-77 S.
Turn left onto FM 55/FM-55.
Turn left onto FM 55/TX-34/FM-55.
Take the 1st right onto FM 55/FM-55. Continue to follow FM-55.
Turn left onto W Forgey St/TX-22/FM-55.
Take the 3rd right onto N Fordyce St/FM-55.
Turn left onto E Grady St/FM-55. Continue to follow FM-55.
Turn left onto FM 744/FM-744.
Chinmaya Mangalam is on FM 744 on the right hand side.
Thank You
2023 CM DFW Grand Celebration Planning Team
REGISTRATIONS STEPS
Following are the detailed instructions:
Login to the Registration system using the link: Chinmaya Mission – Registration System OR Click Registration on http://www.cmdfw.org/ login and then:
Scroll down to the "Holi Picnic and Walkathon – Festivities at Chinmaya Mangalam" section.
Click on Register for the Holi Event then
Click on Click here to register online then
In the Quantity column, enter number of families you are registering. Note: column will be pre-filled for the member (your family) so you need to only enter the number of guest families you want to register for.  (To keep it simple, should we not ask for the total number?)
Click Waiver Document to down the waiver document and review it and forward it to your guest family. Please read and click the radio button above the text "Yes, I agree" to electronically sign the waiver form.  
Click Submit
Check all the family members that are planning to attend the event.
Click Continue
Choose whether you want to You also need to indicate if the family member is below 12 years old or not. Add your phone number. Please note that at least one adult has to accompany children. 
Click Continue
Review the information entered and the amount due.

Click

Complete Enrollment

 and follow instructions to pay for the event.