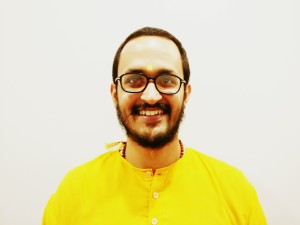 Chinmaya Mission Dallas/Fort Worth center was pleased to receive Brahmachari Yatindra Chaitanya as their newest family member. Born and brought up in Chicago, he was never a stranger to Chinmaya Mission. He grew up with the Balavihar teachings, was an active member of the Yuva Kendra (CHYK) and later on was a Balavihar teacher himself. He was indeed very fortunate to be born in a family that not only cherished the Vedantic teachings, but also actively learned and practiced them. These samskaras (impressions) were indeed the greatest boons and Br. Yatindra Chaitanya had a very strong inclination to further his Vedantic learnings. In fact, even as a child he aspired to be just like the Swamijis. He was greatly influenced by Swami Sharanananda and many other Acharyas who frequently interacted with the congregation in Chicago and held camps in the Chicago area. Br. Yatindra Chaitanya yearned to be like the sanyasis (monks) – they possessed nothing yet had everything. They gave up petty possessions and pleasures yet gained the universe. It certainly was a dream come true when he got an opportunity to join Sandeepany Ashram and receive the Acharya training.
He considers his parents support as the greatest blessing in his life. Not only did they also study Vedanta and expose him to the knowledge, but they clearly understood the magnitude of this pursuit. So when Br. Yatindra Chaitanya expressed interest in this path, they were ecstatic that he would derive the maximum benefit of studying Vedanta.
Thus he entered this path to pursue the dream of gaining that knowledge which liberates us. He shares the vision of Vedanta which has been handed down to us through our Guru Parampara Sampradaya (lineage). The rishis and seers have shown us the essential thing is to understand Vedanta. They have given us the scriptures – the Vedas, Upanishads, etc. with a clear vision. Nothing else other than this supreme knowledge is required. Br. Yatindra Chaitanya envisions making Vedanta vichaar accessible to everyone so that we can all seek the higher knowledge and study Vedanta in depth. He has dedicated his life to Pujya Gurudev Swami Chinmayananda ji's teachings and strongly believe that serving the shastras (scriptures) is to serve the entire universe. His family isn't restricted to just three or four people, the whole world becomes his family. He is determined to ensure that the knowledge of Vedanta which will set people free and allow them to be happy in any situation remains accessible to maximum people.
He enjoys an innate knack of being able to connect, especially with the Yuva Kendra members and Balavihar students growing up in the USA amidst the dual American & Indian cultural influences. He relates to the audience in a seemingly instinctive way, and the CHYKs especially are blown away by his simplistic down-to-earth nature. His unpretentious disposition and straightforward interactions leave a deep impression on everyone.
Br. Yatindra Chaitanya considers that Sanskrit is the easiest, simplest, most beautiful language. He dismisses the misconception that Sanskrit is a difficult language. He believes that everyone should study Sanskrit because our scriptures are in Sanskrit. If the highest knowledge is available in Sanskrit, why shouldn't we learn it? We can rest assured that he will not only strive to make us spiritual seekers fit enough to access the universal Vedantic knowledge, but he will also ensure that we get an opportunity to study it in Sanskrit as well.
When asked about his choice to be renunciate, he realizes the common notion we all share – What is the need for sanyas (renounce) if we can anyway get moksha (liberation) through this knowledge? Br. Yatindra Chaitanya explains that it's true that you don't need orange clothes for sanyas. But he has the highest regard for these noble learned men because of whom this knowledge is available to us. Without sanyasis, where would we study Vedanta? Who would be trained to teach us this knowledge? They have given up everything because this knowledge is the only support they need. They have given up all their possessions and pettiness; their pockets are empty. Yet the whole world respects them, and even calls them "Maharaj" (king). They give up their body and mind to serve the world. Their heart is completely fulfilled. There is nothing else left for them to gain. In that sense, what can we give them? They are so content, there is nothing else left for them to gain. We only have to approach them to gain fulfillment. That's the vision that inspired him to continue studying on this path. "We are all on the same spiritual path and this learning path is available to us only because of the sanyasis" he says.
Br. Yatindra Chaitanya is well versed with English, Sanskrit and Hindi. He enjoys music, both as a singer and also plays various musical instruments such as tabla, harmonium, drums, guitar, piano, and many other instruments. He will continue his sadhana (practice) to study Vedantic texts, specifically the Upanishads through shravanam (listening), mananam (reflection), nidhidhyasana (contemplation), puja (worship), japa (chanting) and dhyana (meditation).
This is indeed a joyous moment for the entire North America Chinmaya Mission movement. There is a great interest shown by people who have grown up thousands of miles so far away from India, and yet have the samskaras to appreciate Vedanda vichara and dedicate their entire life to serving Pujya Gurudev. With that pride, we introduce Br. Yatindra Chaitanya. Trained, equipped and ready to serve, he is all set to start his next assignment. We look forward to many, many years of learning, growing, and singing with Br. Yatindraji and are very fortunate to be in his company! We seek Pujya Gurudev's blessing to make our dreams to come true, We couldn't have asked for anything more.